Fully Committed
Play by Becky Mode
This devastatingly funny one act follows a day in the life of Sam Peliczowski, an out-of-work actor who mans the red-hot reservation line at Manhattan's number-one restaurant. Coercion, threats, bribes, histrionics—a cast of desperate callers will stop at nothing in their zeal to land a prime reservation, or the right table. Amid the barrage, Sam's got his own needs to contend with—his recently widowed dad wants him home for Christmas, and he's up for a choice part at Lincoln Center.
While juggling scheming socialites, name-dropping wannabes, fickle celebrities and egomaniacal bosses, can he manage to look out for himself?
A wonderful acting challenge, Fully Committed has forty wildly diverse characters designed to be played by a single versatile performer. A riotous, behind-the-scenes look at the other end of the telephone when you're trying to wrangle reservations at the hottest restaurant in town, Fully Committed skewers the rich and famous in a side-splitting send-up of haute cuisine, trendy dining and life in the fast lane.
Producing Partners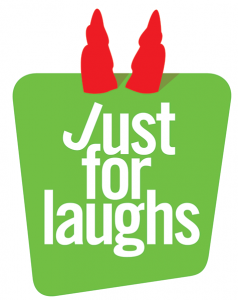 Our Role
Producer & General Manager
"...the popular off-Broadway play 'Fully Committed' now making its first Canadian appearance provides the perfect showcase for McKinney's abundant talents...Mark McKinney serves up this tasting menu of comic types with a panache that should please any palate."

Stage Door

Christopher Hoile
"More laughs than I've had in any single play in a long long time."

Toronto Star
"Gastronomic Genius. A fully satisfying meal. I reccommend this show with no reservations. Mark McKinney's performance in Fully Committed makes this the must-see, can't-miss, hot-ticket show in town. The meat and potatoes are the dazzling comic characters that McKinney summons up with ever-increasing rapidity. McKinney is hilariously triumphant. If you could use some humour these days (and who couldn't?) then head down to the Winter Garden. But get your tickets fast, before they wind up 'fully committed'."

Toronto Star

Richard Ouzounian
"Highly amusing. Sharply targeted satire. McKinney is in full control. He dances nimbly through the many roles, distinguishing each character through delicious caricature and serving up the full potential of a simple comic dish."

The Globe and Mail

Kate Taylor
"Very funny and totally beguiling. After a long diet of worthy plays in small rooms and soulless shows in big rooms, it is a treat to encounter a commercial success that actually deserves to be one."

The National Post

Robert Cushman
"Fully Committed is fully funny. A full course comedy with all the trimmings. McKinney whips up a comedy feast that will leave you wanting seconds!"

680 News

Gloria Martin
"McKinney's quickly sketched impressions and verbal dexterity are awesome."

NOW Magazine

Glenn Sumi
"Comedic virtuosity. McKinney's performance hits some incredible highs of comedic timing and commitment. A lovely performance, with McKinney playing all the characters far past a point of comedic safety. It is this abandon that makes his presence on stage so charming and magnetic."

myTO.com

Duke Parker
Production History
Ran at The Winter Garden Theatre (Toronto) October 25-November 25, 2001 (run extended to December 23 due to popular demand)
Arts Club Theatre Company (Vancouver, BC) 2003
Just for Laughs (Montreal, QC) 2003